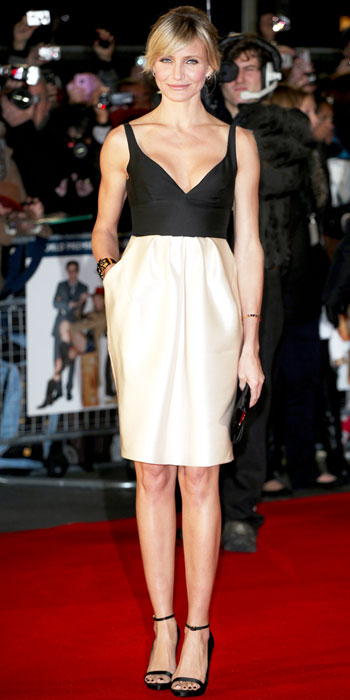 CAMERON DIAZ
I love this dress ... the black and the nude look great together.
She is gorgeous!
Saturday night I watched Bad Teacher online and I absolutely love her in that movie. She is beyond hilarious! I can't really think of one movie of hers that I don't like ... hmmm ... checking IMBD ... ok I hate the Shrek movies ... but that doesn't count. One of her other roles that I love is
In her Shoes
. It is such a great sister movie. It just shows how sisters can bang heads but really help each other grow and if ANYONE knows about banging heads with sister it is yours truly here - Love you Nicole and Debra. If you haven't seen the movie ... WATCH IT and if you have watched the movie ...
READ THE BOOK
! The book is even better!
Also, if I could ever meet her, the one pressing question I would have to ask is, Tommy Boy (named change to save me from legal issues) was wearing heels in that movie right? He's totally not that tall. Love you Tommy - don't sue me! I know you are the man! I saw you drive on Top Gear ... you are totally awesome ... but I just gotta know!
Don't you just love Cameron?
What's your fave movie of hers and please don't say ANY of those horrible Shrek movies!