So we made it! The Mayan calendar might have not have had high hopes for 2013 but it's finally here!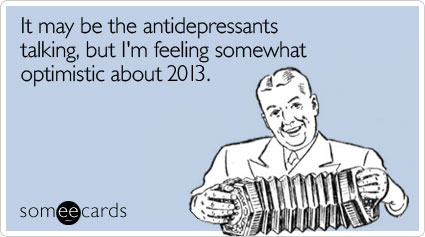 So let's talk about Resolutions ... I really hate making them!
It always seems kinda lame in my book ... like pick all the things I hate about me and vow to change them and then have a breakdown when I realize come January 27th that I have done NONE of them. Also, I hate starting the new year out with Resolutions and a Birthday (said January 27th breakdown). It's just like YEAH I got it ... I am getting OLDER and I SUCK!
Okay so enough of my complaining! Here is what I vow to do ...
1) I need to read other peeps blogs. I am like the world's worst at the moment. I've barely been putting effort into mine let alone browsing others.
2) Get back to my old blogging self - it's hard to explain but I know what I mean so nuff said!
3) Be more organized. I feel like this is kinda cliche like almost all resolutions but I feel like I gotta have one - so here it is. I'm super organized in my professional life - yet I can let my personal life get a tad messy. Yes Paul I plan on picking that up ... "right on top of that" .... so this year I will try to stay as organized at home as I am at work. This will be like the hardest new year's resolution ever ... seriously. I mean it requires all of those things that I never do ... make my bed, put my hair stuff away after using it, keeping everything in it's place ... I've been told countless times that such places exist and that I never find them. So here's to 2013 being my most organized year EVER!
I hope everyone has a safe and happy New Year!!