Maybe I am officially old...but I thought Madonna
rocked the Super Bowl Halftime Show.
Come on ... that stage and graphics were INSANE!!
At one point, Paul asked why she was moving around so slow...
I said did you see those heels...I bet that stage is slippery!
I will admit when she came out with Vogue...I was my 7 year
old self again dancing around to her music.
I went to her 1989 Who's that Girl World Tour and even
my dad (who took me) said...Madonna knows how to put
on a show and all these years later she is still doing it!!
I'll admit..I got a lil teary at Like a Prayer...lol.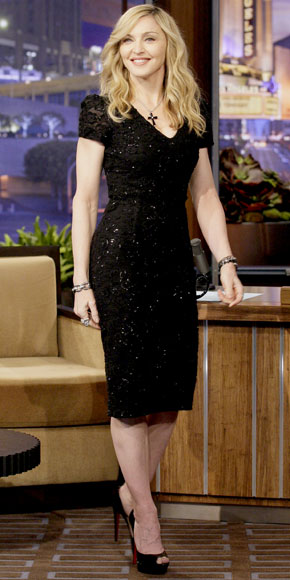 Madonna
WHAT SHE WORE
Madonna
appeared on
The Tonight Show with Jay Leno
in a formfitting LBD and peep-toe stilettos.
WHY WE LOVE IT
The Material Girl showed off her ageless physique in a sexy ensemble that has us anticipating her
Super Bowl halftime show
!